Celebrating 10 years
We are thrilled to be celebrating 10 years of Punnet!
Read our full 10 year story below.  
In a year that has rocked the hospitality industry nationwide, Punnet has something to celebrate. 
This year marks 10 years in business for us - a feat for any business, let alone one in the midst of a global pandemic. 
Owner/operator Haley Bicknell, says she's incredibly proud to be celebrating a decade of Punnet and is looking forward to formally recognising the occasion in early November.
"We have created something really special here and in turn cemented ourselves within the Tamahere community and wider Waikato. Ten years reflects a great deal of effort, passion and contribution from many people, as well as the support of our incredible customers."  
Haley took the helm back in 2013, taking over from her parents, Gary and Pam McMahon, who run the strawberry farm. She saw it as her opportunity to join the family business and dove right in.
During her time as owner/operator, she's focused on refining Punnet's offering and delivering the total package – great service, a special experience and exceptional food.
She credits her head chef, Sophie Beck for the latter.
"Sophie's cuisine is something really unique – it's both homely and refined. Sophie's expertise and leadership in the kitchen have been a real asset to the business for the past two years."
Haley says staffing is the key ingredient to any successful hospitality business and believes her team is the secret to Punnet's longevity.
"It's really rewarding to continually be able to celebrate the team's 'punniversaries' – with members passing one, two, three and four years here – which anyone in the hospitality industry would know is rare."
She credits their values as another contributor to 10 years in business.
 "One of our values is 'Every day better' and I honestly believe that is the main reason why we are still here. We try to make ourselves better every single day."
 Haley moved from Hamilton into the Tamahere community a few years ago and says that has been a highlight of her time at Punnet.
 "Joining the community that I have worked so hard to serve and contribute to for the past seven years was really poignant for me. It's a special place to be and I find it really motivating to be able to add value to my community."
 While there is much to be proud of, Haley jokes she is never happy.
 "I'm always looking to improve. I'm really motivated to own a business that I'm proud of and that I am proud for my friends, family and community to enjoy. There's some really awesome stuff going on in the Hamilton hospitality scene at the moment and I hope to continue contributing to that also."
 As the busiest daytime café in the Waikato, where can Punnet go from here?
 "This is my home and I would still love to be here in 10 years' time. Continuing that special relationship with our customers and staff and continuing to push in terms of innovating and evolving."
We're a proud family-run business. We believe every day is a little - or sometimes big - celebration.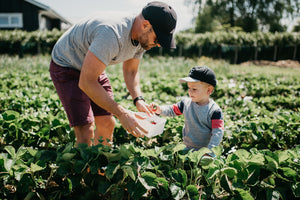 The Strawberry Farm
The Strawberry Farm has been part of Tamahere for more than 25 years, but it was taken over by the McMahon family (that's us!) in 2003. Starting with an honesty box system, we soon built a shop to sell the berries from, and were the first in Hamilton to start making our own natural fruit ice cream. For all pick your own strawberry enquiries, please phone: 07-859 1380.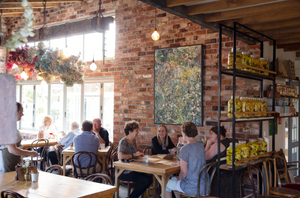 Punnet Eatery
As the Strawberry Farm became more of a destination and as the little shop grew, we realised that the community needed its own gathering spot, somewhere people could spend time relaxing and enjoying life. Now a thriving eatery, we specialise in rustic fine dining, and love creating parties where you can spend time with your loved ones.
Make a Booking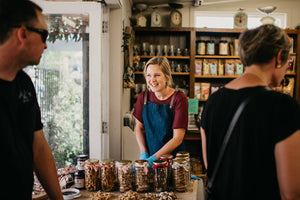 The Country Providore
At the Country Providore, you'll find goodies and special-occasion treats for yourself or someone else. With our carefully curated selection of artisan goods and chic homewares, we have something for everyone.
If you have a question about pick your own strawberries, get in touch with our friendly team!
Check out the Country Providore
Looking for a unique destination for your party?
We love to create magical moments for the people you love. If you are planning a birthday celebration, a kids party, or a High Tea we can help you create the perfect party. We've got plenty of options to suit all styles and budgets. Our specialist & friendly functions team are always happy to help at letsparty@punnet.co.nz.