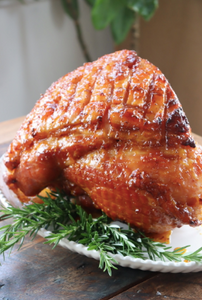 Is it even Christmas without a beautifully glazed ham!? 
Indulge in the festive flavors of our Christmas ham, expertly crafted with a delightful apricot and whole grain mustard glaze. Sourced locally in Hamilton, this ham undergoes a meticulous smoking process for an authentic touch. Throughout cooking, it's lovingly basted with zesty orange juice, ensuring a succulent and juicy result. The finishing touch? A caramelized layer achieved through a flavorful glazing process. Versatile and delicious, this ham is equally delightful served hot or cold.
Each ham weighs between 4-6 kgs, with our specially requested size being 5 kgs for your festive feast.

Important Information: 
- We require preorders for all catering items 5 days in advance.
- Please write in the comment section what date and time you will be picking up your catering, and any dietary requirements